Springtime at Walt Disney World
Welcome to those of you joining me from Manda's Disney Blog and those of you just hopping aboard. I am the 2nd stop on our Magical Blogorail. This month we are talking about springtime at Walt Disney World, and just in time, because I'm needing a shot a warmer weather right about now.
Despite the blizzard like conditions seen in the Northeast this past week, down South we are starting to experience spring taking over. There is far, far too much yellow pollen for my liking settling on everything outside. The lawn, which hadn't been mowed since before Christmas, is starting to show signs of needing a trim. The temperature, while cool at night, has been pleasant during the day. More sun and lots of wind are sure signs that the seasons are changing. Ah….Springtime…we welcome you with open arms because we know it's just a fleeting visit before the hot, humid days of summer take over.
In the Southern coastal states, springtime is a great season to be out and about traveling. However, I have a confession to make: I've never been to Disney World in the Spring! Why that is, I really don't know, other than to say our schedules never synced up. Visiting Walt Disney World in the spring seems like an optimal time to go. Outside of Spring Break and Easter, crowd levels are relatively low. Lower crowd levels generally equate to lower resort prices. By March, most of the January/February attraction and pool refurbishments have been completed in anticipation of the Spring Break and Easter crowds. Weather wise, you can't go wrong in April or May. Although, the temperature can be variable, typically the highs hover in the 70/80s range, humidity is lower than the summer, hurricane season hasn't begun, and storms aren't as frequent as the summer patterns (although they can be just as violent; April is a high tornado period for Florida). Springtime in Florida can be extremely pleasant.
Factor in Epcot's International Flower and Garden Festival which runs March 6 to May 19
th
, Spring time is a great time to visit Walt Disney World.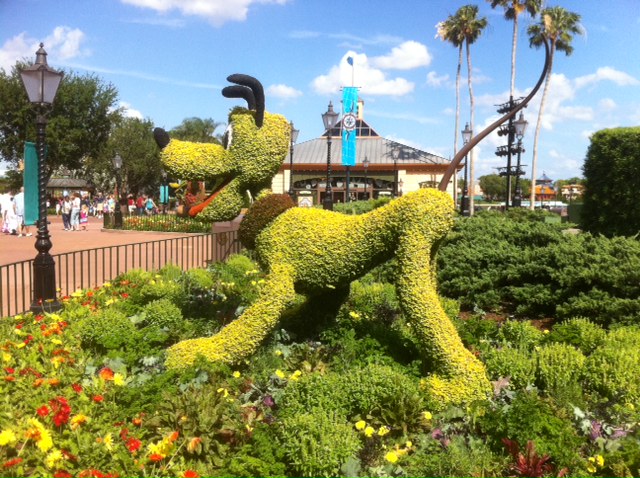 Spring marks the arrival of Epcot's International
Flower & Garden Festival. Photo courtesy of
yourfirstvisit.net
So what am I waiting for….
In the Spring time, you'll find less bugs...
more sun....
warmer weather to get wet in....
but less of this...
however, don't forget those ponchos!
Here is the map of our Magical Blogorail should you happen to have to make astop along the way and want to reboard:
Final Stop ~
The CanaDisney Blog