Howdy all, this is League City Mouse's brother with a guest post. Like your gracious host, I am also a big Disney fan and have been for years. Heck, I even got engaged at the California Grill! I am also a bit of a "railfan". What is a railfan you ask? Per Wikipedia, a railfan "is a person interested in a recreational capacity in rail transport."
Most people are familiar with the quote by Walt Disney about it all being started by a mouse, which is true of the company, but it can be argued that the parks were started, at least in part, by a train.
Walt's association with trains goes back to his early childhood. When Walt was a young boy at the turn of the 20th century the train, more specifically steam train, was the most common form of longer distance travel and it was by rail that Walt's father Elias took his family on in 1906 to their new farm in Marceline, Missouri. The Atchison, Topeka & Santa Fe ran thru Marceline on which Walt's uncle Michael Martin was an engineer. It was here as a young boy he started developing his love of trains and railroading.
While the Disney's only stayed in Marceline for four years, Walt often credited that time as being the most formative and happiest of his early life.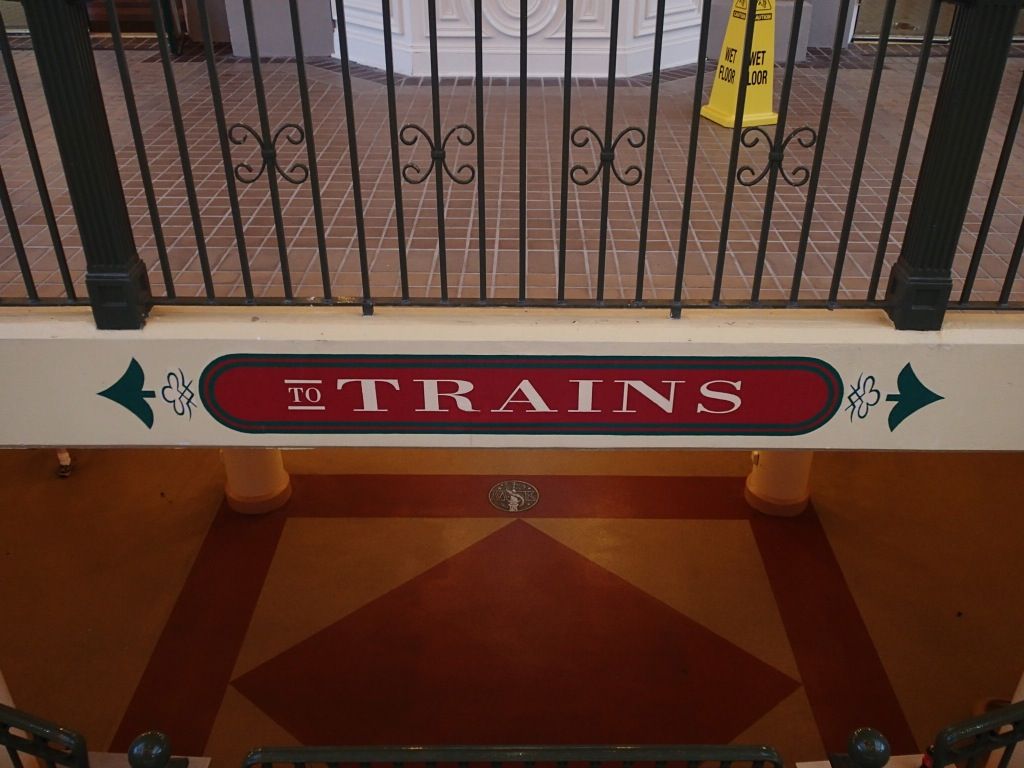 Next stop for the Disney family was Kansas City. Kansas City was a large railroad hub; by 1914 it had 12 railway lines entering the city and had one of the largest railroad stations in the country with the main building covering 15 acres. Also there was Electric Park that Walt visited often. Electric Park was one of the largest amusement parks in the US and, among other things, it was ringed by a scenic railroad. Sound familiar?
When Elias decided it was time to move again, Walt chose to stay in Kansas City and get a job with the Van Noyes Interstate News Co. as a "news butcher" selling papers, candy and sodas to the customers on the Missouri Pacific train running between Kansas City and Denver. He was only 15. While this endeavor was a financial flop for Walt, he did impress the engineers and conductors who taught the eager young man about train operations including running the engine.
Jumping ahead to 1928 Walt was returning to Los Angeles on the Santa Fe from New York where he had just lost the rights to Oswald the Lucky Rabbit. It was on this train ride that he conceived a little mouse character, Mortimer the Mouse. After some input from his wife Lillian the mouse's name was changed to Mickey, Mickey the Mouse.
As the years went on and the studio continued to have success and grow Walt was looking for a hobby to relieve the tension that came with helming a growing studio. Following the suit of many Hollywood elite he took up Polo. Walt was apparently an average player at best until he was hit in the neck by the ball and cracked several vertebra ending his polo career. This injury would plague Walt the rest of his life.
Next he tried golf, but just could not seem to get into it.
One evening in July of 1948 When Walt was receiving his massage from studio nurse Hazel George she suggest since he liked trains that he go to the Chicago Train Fair that year. Walt thought it over and decided it was a good idea but did not want to go alone and Hazel again came to the rescue suggesting that he take Ward Kimball, one of his "nine old men" (Walt's core team of animators).
Ward was the first person in the US to have a full size private railroad in his backyard, the Grizzly Flats Railroad.
Realizing his love of trains, especially steam trains, but realizing he did not have the space to indulge in full size Walt gravitated to miniature live steam trains. When looking for property for a new home in the Carolwood neighborhood of the Holmby Hills area of Los Angeles he took the topographic plats of the property to Eddie Sargent to see if a scale railroad would work there.
Finding out that it would be suitable for a railroad, Walt and Lillian went ahead with the purchase and Walt began designing his railroad. It would become known as the Carolwood Pacific. While Lillian was supportive of Walt's hobby there was one area where she held fast that he could not run the train thru where she planned her flowerbed. In typical out-of-the-box Disney, thinking Walt decided he could just run a tunnel under the flowerbed and did so. With the help of the machine shop at the studios Walt built many of the components and cars for the railroad, naming the engine the Lilly Belle.
Still the miniature railroad was not enough, plus Walt was working on another idea, a little something called Disneyland.
Now Walt could have his full size railroad. Just like Electric Park, it would circle the park to give guests a grand tour and with the tracks on a berm to limit the views into and out of the park. Walt knew he wanted to have control of the trains, his own little play toy, so they did not belong to Disneyland or Disney Productions, instead they were owned and operated by a company Walt created called RETLAW, Walter spelled backwards. This allowed him complete control over the trains and the monorail.
Often Walt would take over from the engineer and actually drive the Disneyland trains with guests on board.
Beyond Disneyland and Walt's home railroads, numerous Disney films have featured trains, among them Dumbo (Casey Jr. the circus train) and The Great locomotive Chase (American Civil War based live action with Fess Parker).
….next time, live steam at Walt Disney World.