When I talk to people about the Disney World Theme Parks and Resorts, one thing they notice is how emphatic I am about noticing the little details. It's the thing that I most enjoy about the parks and resorts and what keeps me coming back for more because every time you look at something you're bound to see something new. While most details are bold and grand, like the colors of the castle or the immense look of Tower of Terror, there are millions of subtle ones. What I find fascinating about these is that to the casual observer they are often overlooked. But, I wonder if your mind would notice if they weren't there?!?
Let me give you an example. I'm going to take you over to Epcot's Japan pavilion for this one. Along the shore of the the World Showcase in front of the Japanese pavilion stands a red torii gate. A torii is a traditional Japanese gate most commonly found at the entrance of a Shinto shrine. This particular one is a replica of the torii of the Itsukushima Shrine, often called "floating shrine" because it sits in the water just off the island of Itsukushima in the city Hatsukaichi, Japan. This shrine is listed as a UNESCO World Heritage Site and the Japanese government has designated it as a National Treasure. The details and significance of this freature to the Japanese pavilion is fairly obvious. What is not so obvious is what is found at the bottom of the torii. Take a look...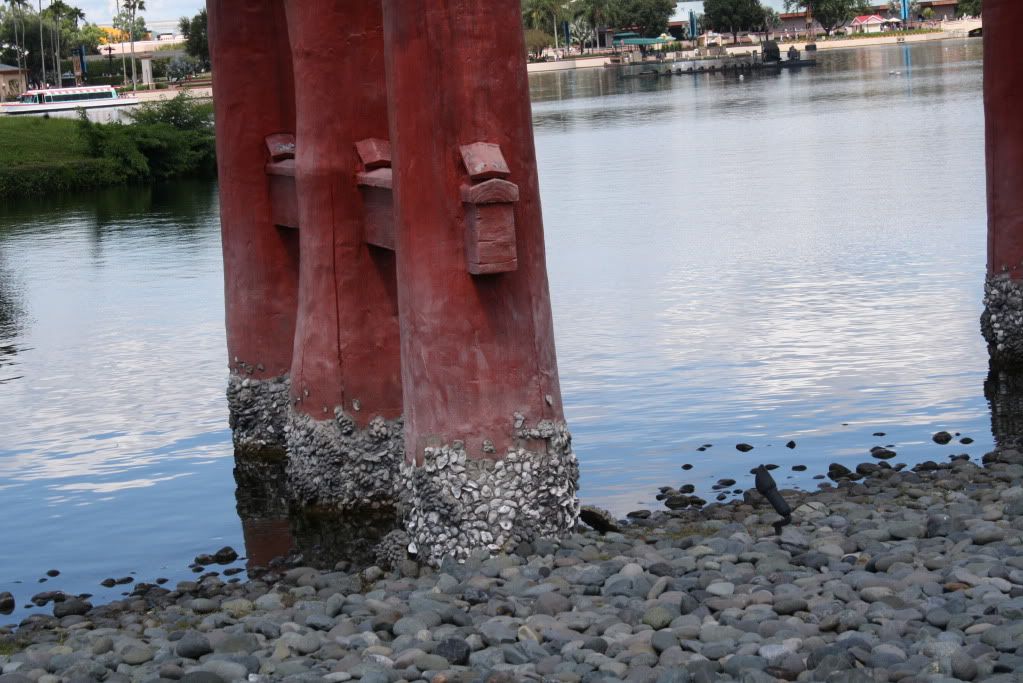 What do you see? Barnacles and the appearance of high and low tide water marks. Hmmm...that's odd, as the World Showcase lagoon is a freshwater lagoon with no tidal influence. EXACTLY what I mean!!! As a causal observer you don't notice that, but if the torii stood freshly painted, at the water's edge, would you notice the missing detail? Probably not, but it's those little details that make the place seem so much more read and vivid to the imagination.
What overlooked details have you seen the parks or resorts recently?