Our topic on the Magical Blogorail this month is our favorite World Showcase Pavilion. I must admit, this topic is hard for me as it's difficult to pick my FAVORITE pavilion. Each country represented is so unique in its own right that it's hard to compare apples to apples. But if I must pick, I'm going to pick the one that is most intriguing me. That pavilion is Morocco. I think I find Morocco the most fascinating because it's the culture represented in Epcot that I know least about.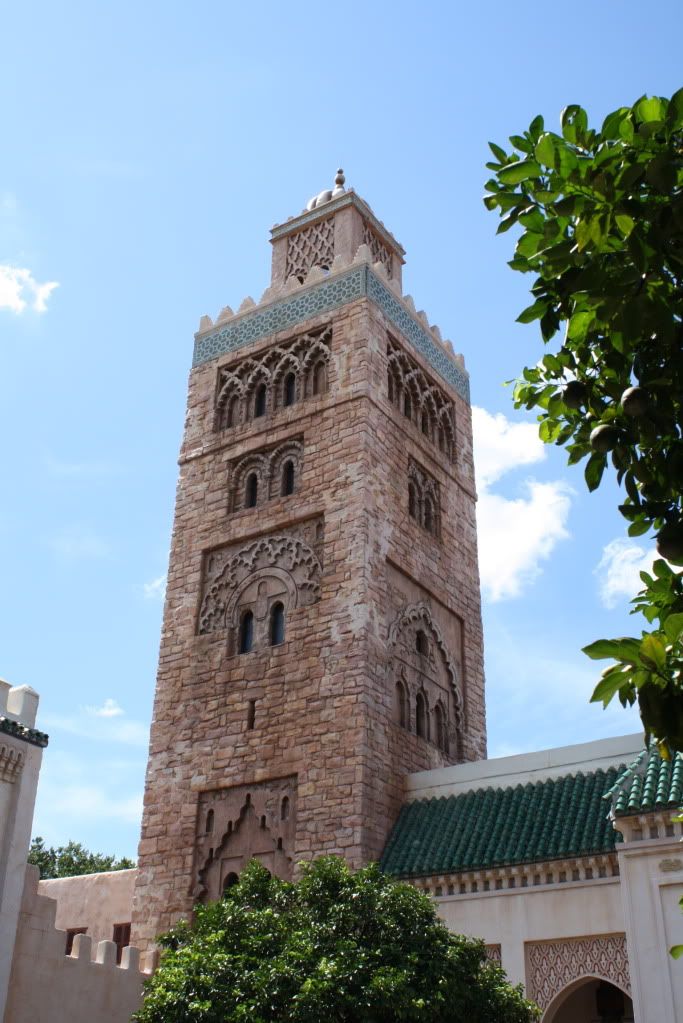 Koutoubia Minaret
of Marrakesh
Quite unassuming on the outside, Morocco is often passed by for more familiar countries by many guests. Morocco doesn't have an attraction, so most people don't bother with it and that is a shame. Just inside the walled city, lies an amazing architecture, adorned with beautiful tile work and impeccable craftsmanship. A walk through the local bazaar (or market place) reveals delightful treasures. It's a truly unique shopping experience.
The Morocco Pavilion was the first expansion pavilion to be added to the World Showcase, opening in 1984. The pavilion is the only one designed with the named government's aid. King Hassan II sent Moroccan artisans to design and create the many mosaics and buildings you'll see in the pavilion. Due to Islamic beliefs on the content of art, the mosaics contain no representations of people. To this day, the Moroccan government continues to sponsor the pavilion, while corporations hold sponsoring rights to the other World Showcase pavilions.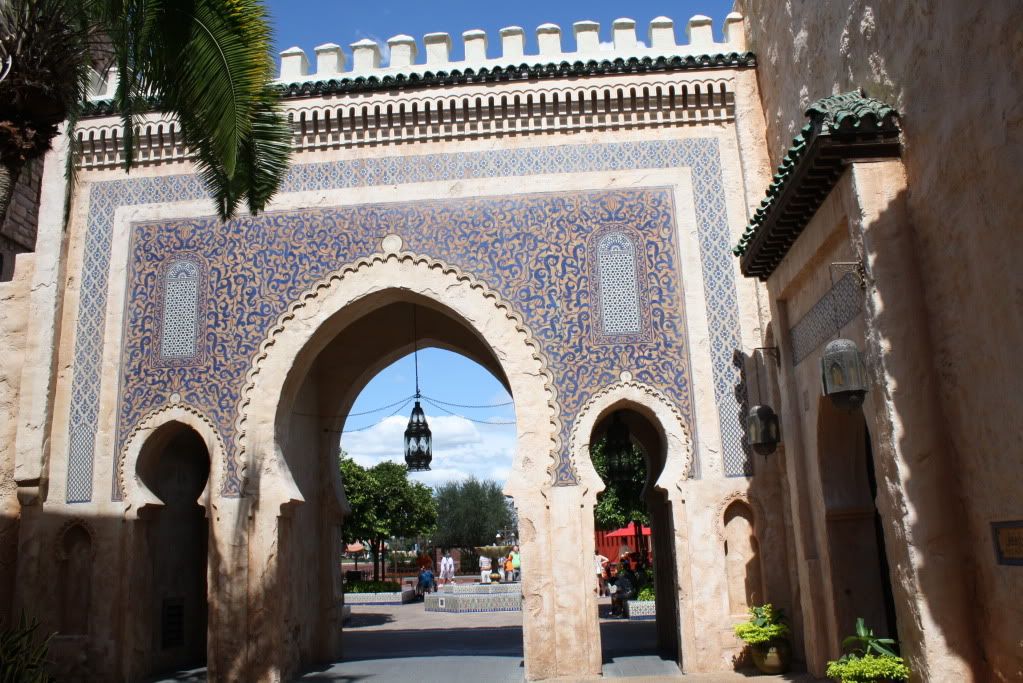 Bab Boujouloud gate
Three cities of this northern African country are represented here: Casablanca, Fez, and Marrakesh. Guarding the entrance to the pavilion is a reproduction of the Koutoubia Minaret of Marrakesh. This intricately carved tower was built by native craftsmen. As you delve deeper into the pavilion, you'll see more exquisite craftsmanship in the gate to the Medina (or old city) in a replica of the Bab Boujouloud gate. Through the gate, you'll find the bustling bazaar. All the shops are interconnected to give you the feel of being in a real outside shopping bazaar and it's easy to get lost in these shops! The bazaar is a wonderful place to find unique gifts for that hard-to-buy-for person in your family. Doesn't your Cousin Tim need a Fez? How about a belly dancing video for your Aunt Helen?
Enter the Fez House to see a representation of a typical Moroccan home. The tile and word work is amazing. If it's quiet, I'm sure you can hear children playing in the distance!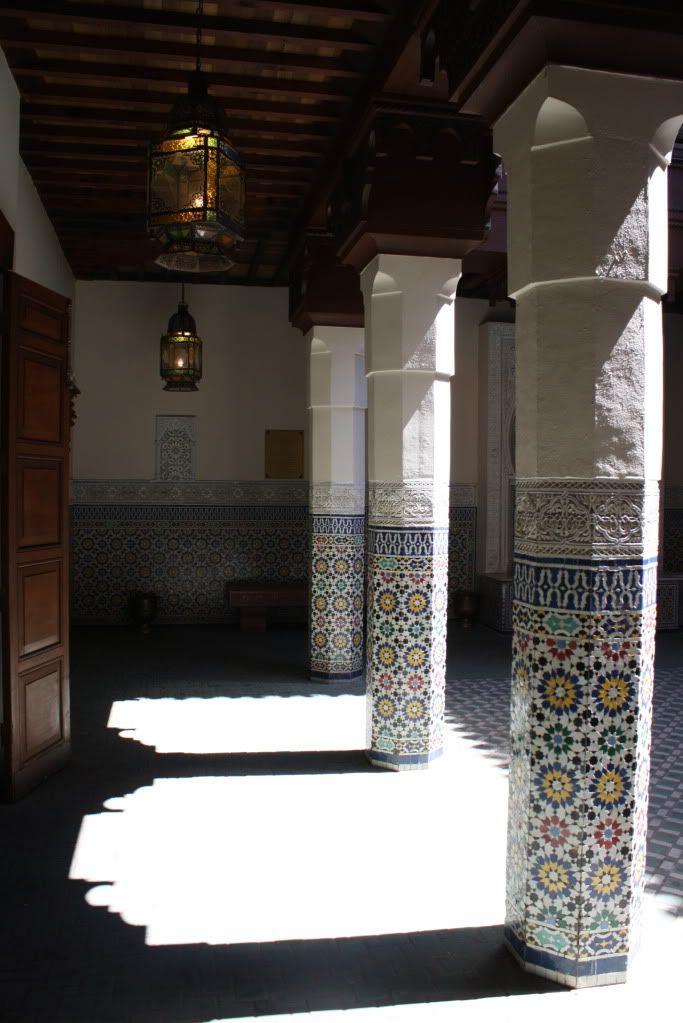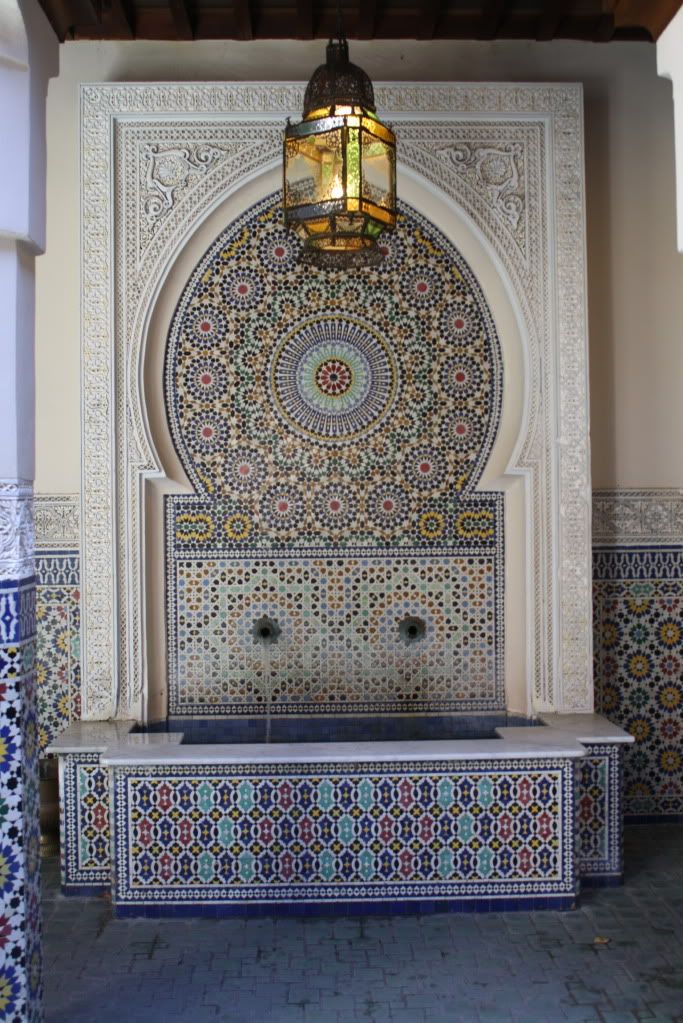 One of many
fountains
A flower filled courtyard is surrounded by native plants -- citrus and olive trees, date palms, banana trees, and a fountain. Some of the gardens are irrigated by an ancient working waterwheel.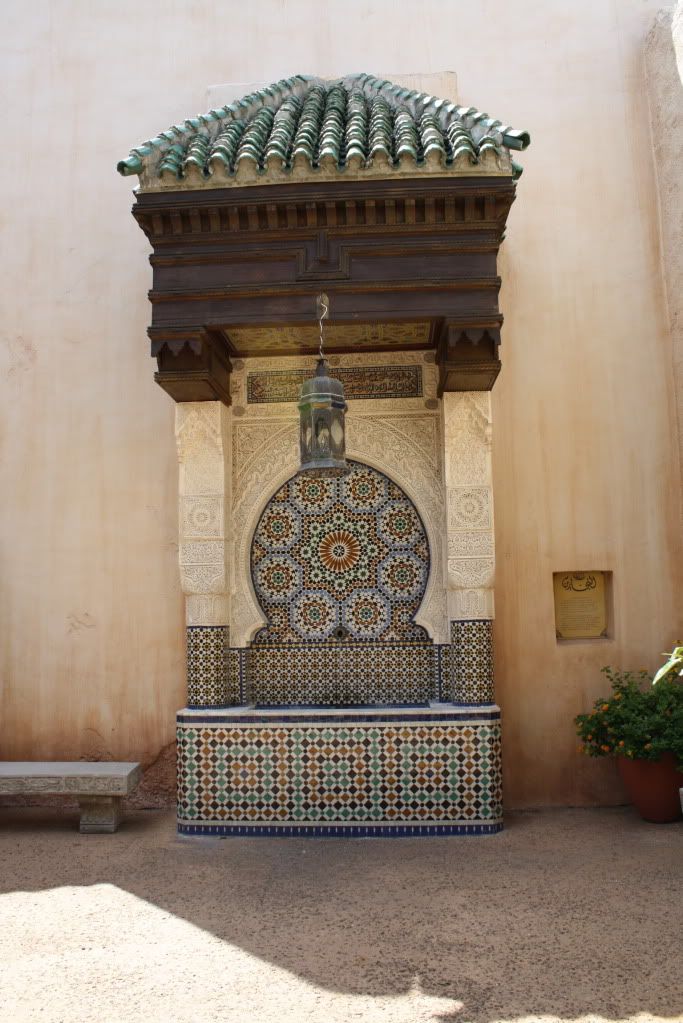 Since these buildings were designed and sponsored by the country of Morocco, they hold great religious significant. As a result the pavilion is the only one not lit up during the nightly Illuminations performance.






Here is a sampling of what's available to you in this pavilion:
Gallery of Arts and History - A museum of sorts filled with a display of science, music, and technology of Morocco.

Moroccan Style: The Art of Personal Adornment - An exhibit that features clothing and jewelry of Morocco.
Lunch at Tangerine Cafe
Restaurant Marrakesh - Sit down restaurant location serves various types of Moroccan cuisine. Belly dancers provide entertainment to diners.

Tangerine Cafe - Serves hummus, salads, rotisseries chicken, lamb, and baklava along with moroccan beverages include strong coffee, mint tea, and beer. The amount of food you get here in their platters is enough for two!
Tangier Trades - Sells jewelry, and Moroccan clothing and shoes.

Brass Bazaar - Handworked brass items.

Outdoor Bazaar - extension of the Brass Bazaar. Items include ceramic tiles and vases, music instruments, and handmade baskets.

Medina Arts - Woodcrafts, lamps, leather goods, furniture

Casablanca Carpets - Rugs and other textiles.

Souk-Al-Magreb - Cooking utensils and food, fez hats, perfumes, and belly dancing accessories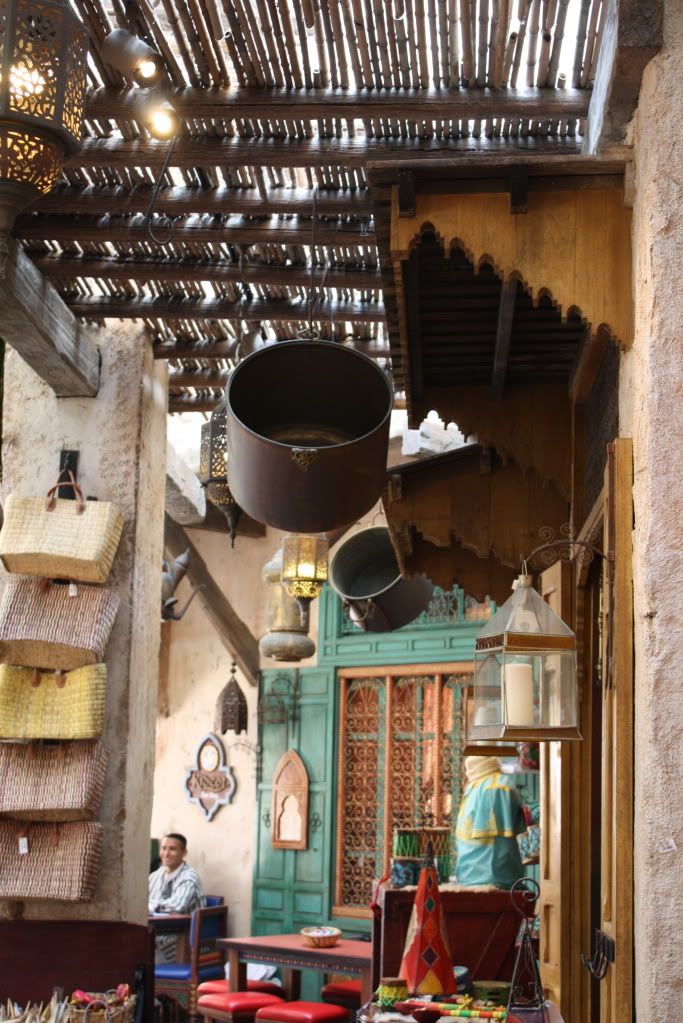 Mo'Rockin - Live performances vary. See park guides for times. The band offers a blend of rock music and Arabian rhythms.
Meet & Greet Disney Characters
Here's the place in Epcot to meet Aladdin, Princess Jasmine & Genie.
A final fact about the Morocco pavilion you may not know - The Tower of Terror at Hollywood Studios is seen at an angle from the Moroccan pavilion. The top of the Tower of Terror is designed so it blends in with the Moroccan architecture.
Thank you for joining Magical Blogorail Peach this month. We will be back in December with an all new theme. If you are looking for more Disney magic, you can make your way over to
Magical Blogorail
website to see all our members and their blogs.
Here is the map of our Magical Blogorail should you happen to have to make a stop along the way and want to reboard: