As you enter the Magic Kingdom, just past City Hall, tucked away in a corner of Town Square between the Car Barn and the Emporium, you can find a little barber shop. The Harmony Barber Shop has been a fixture in the park for years, but because it's not advertised and somewhat hidden in the corner, it's overlooked by the vast majority of guests that step through the gate. I suppose that's part of it's charm. I've always known the barber shop existed but until our last trip, I never took the opportunity to step inside and see.
The shop is set up as to look like a turn of the century barber shop complete with three old fashioned barber chairs, black & white tile floor, an antique cash register, pin-striped wallpaper, a wooden wall phone, and a pot belly stove. The first word I can think of to describe the place is "quaint". The place is tiny, but comfortable. With children in all three chairs, you have parents vying for a spot to capture the best picture, but it's all in good fun.
The shop offers cuts, and up-dos, and specializes in baby's first haircuts. For children who get their first haircut here, they received special Mickey Ears with "First Hair Cut" embroidered on the back. We chose a day during our most recent trip to have my son's hair cut and get my daughter the glitter treatment.
If you time it right, I've heard that the Dapper Dans stop in about noontime to serenade the guests. One of the Main Street parade female dancers stop in during our visit for a chat with the guests.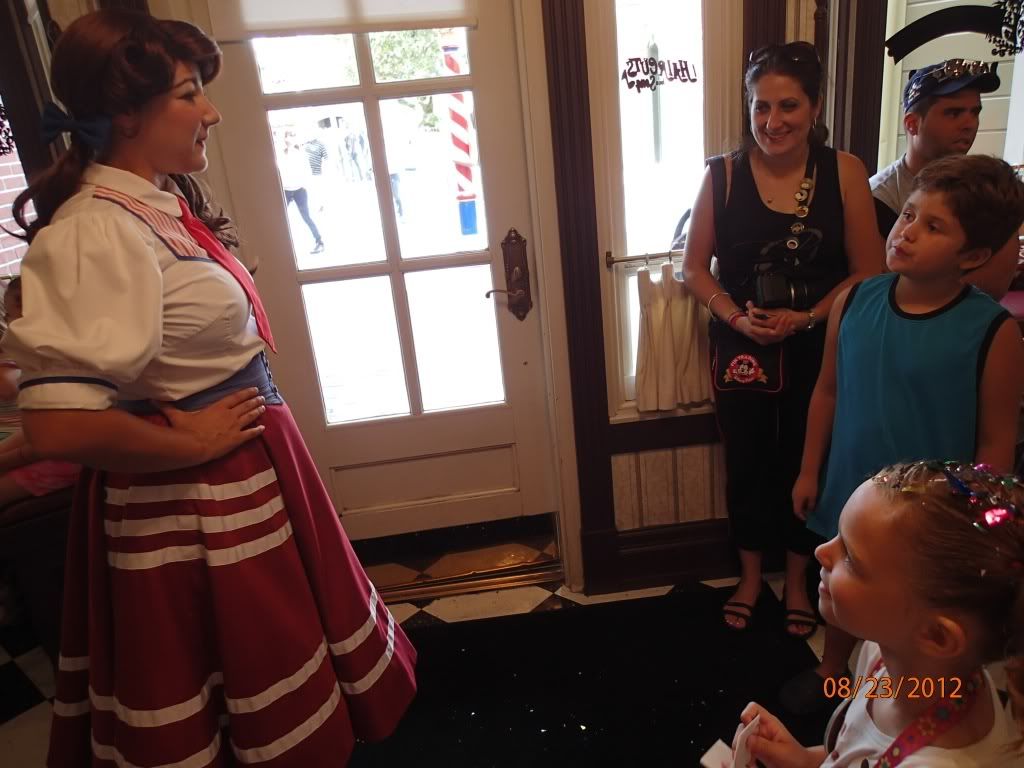 During the summer of 2012, children's cuts cost $15, with gel & glitter $5. Specialty children's first haircuts runs $18, and adults cuts are $19. At those prices, I find this experience to be one of the best values on property. It's fun for the kids and parents. Reservations can be made by calling the Disney dining reservation line or talking with your resort concierge. We walked in shortly after the park opened one morning without reservations and got in with no wait.